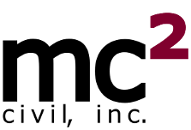 mc2 civil oversees the operations of three operating companies
main lane industries, ltd. (main lane), mc2 oilfield solutions, llc. (mc2 oilfield solutions) and norwest services (norwest).
main lane is a provider of heavy civil and roadway construction services and highway maintenance services in Southeast Texas. main lane's clients include the Texas Department of Transportation, The City of Houston, Harris County, Harris County Toll Road Authority, City of Galveston and many other municipalities in Harris county and surrounding counties.
mc2 oilfield solutions is a provider of energy construction services to private clients in the Texas energy industry.
norwest services supplies and applies asphalt based materials on heavy civil construction projects. Their clients include heavy civil construction contractors in the Houston area.
Integrity
Health
Friendship
Profit
Giving Back